Meet Sandra
Reiki Master & Intuitive Guide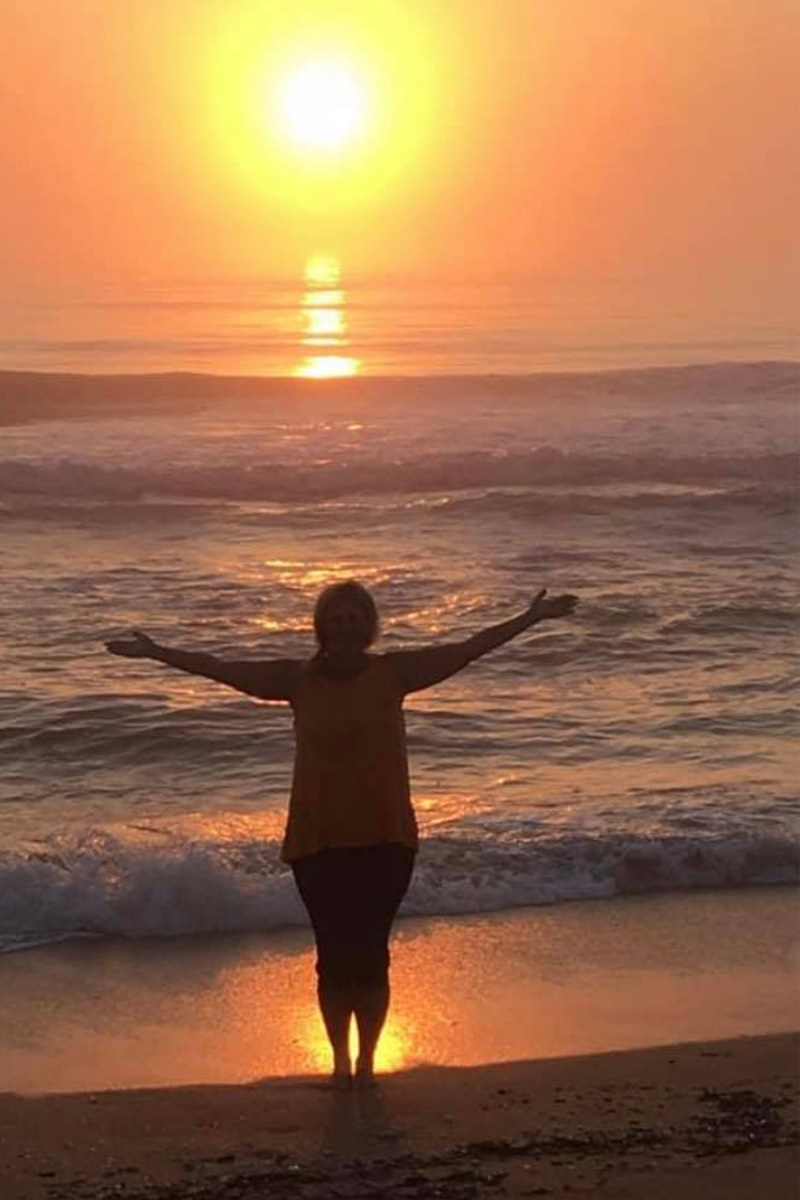 It all starts with 2 simple words…I believe.
Do you believe life can be beautiful and simple?
Do you believe that you have the power to own your own healing?
Do you believe that you and your voice deserve to be heard?
It doesn't sound simple. I know from my own experience it didn't' feel simple. I was always nervous, anxious and overwhelmed by my situation and by others around me. I didn't feel like I had any control. And then I realized:
Simple doesn't always mean easyIt didn't happen all at once for me. I was a military wife and I was a worrier. I would get anxious just thinking about getting used to another new place, new people, new circumstances. The anxiety could be so bad I would just curl up into a cocoon and disappear for a while. This wasn't healthy for me and it wasn't easy on my family. Something had to change.
And it did. Slowly.
It all started with a massage. I had deeply desired one for quite some time, but I was unhappy with my body and was embarrassed for others to see me in that state. I knew I needed it, but the fear held me back. Then one day, while skating with my young children, a woman approached me after seeing I was in pain after hunching over for hours in the rink. She asked if I had ever had a massage. I responded 'no' and she handed me her card. Imaging that, a massage therapist.
I booked my appointment and that's when my journey to self-healing and self-love began.
That was over 22 years ago now. What started as a massage led to a meditation practice. I loved meditation because I could do it when I wanted, on my own terms and in my own way. I wasn't tied to anyone or anything. I was smiling, I was relaxed and I was feeling joy again in my life.
And the journey didn't stop there. It led to becoming a reiki master as well as discovering other modalities such as yoga, quantum flow. Connecting with others to bring forth healing, joy and self-love is what motivates me more than anything. I also recognize it's not easy to be raw and real and acknowledge what's really going on, but that's where the healing begins.
My Philosophy & Values
I want to teach you how to guide yourself to your own healing.
I want to share my stories with you so that you may learn from my journey.
I want to encourage you to embrace being human and having a beautiful and loving soul experience.
Together we can do anything.
I have studied many modalities of wellness.
Certified in Reiki Master, Meditation, yoga,
Quantum Flow and Indo Head massage
I am extremely excited to offer
mind-body balance knowledge to you,
to the community and to humanity.
Not sure where to start? Have questions?
Click here to book a conversation and get to know one another.
"I just want to say that the time I spent with Sandra was incredible. The process of Quantum Flow has changed me in just 2 short days. The self-love has a voice that was shushed by the negative cr**, but now speaks loud and clear! Whenever something unexpected comes up, I lean over and vomit it out immediately. I can't wait to have more sessions. Sandra is a delight, her intuition is well intuitive, she knew my feet were freezing before I did. I look forward to a long relationship with this lovely new friend. To spend years being in her sphere of love and healing."
Sandra is very gifted, in fact my wife has gone for a few sessions. I would recommend her and the Quantum Flow method to anyone. She has given me gifts that aid me in seeing the positive side of a myriad of difficult situations, enabling me to deal with things in a more stress-free manner. Because of this I am sleeping better and can relax in ways I never could.
Terry Beers
Personal Quantum Flow Client
Reach Out & Connect
Ask a question or book an appointment below. 
Aldouane, New Brunswick, Canada